Dear theremin friends, welcome at our theremin academy website!
You might be interested in the idea behind the theremin academies, the different lesson formats we offer or you want to know more about our teachers. Please click on the corresponding links or use the menu above.
For all other other questions, please use the contact form.
Latest News:
2017
In 2017, we are having again many events, please visit the list of all upcoming academies. We are updating that list continuously as individual registration becomes available. Thus, if you can't (yet) find the event you are interested in, please check back soon. Actually, there are academies planned in Lausanne (CH) in February, in Leipzig (D) in April, in Colmar (F) in July, in Oxford (UK) in August, and finally a huge celebration for the tenth anniversary of the "Without Touch" festivals in Lippstadt (D) in November.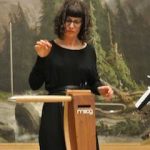 The teacher crew is growing
Our teachers crew, Lydia Kavina, Carolina Eyck, Wilco Botermans, and Thierry Frenkel with occasional help by Dorit Chrysler and Thorwald Jørgensen has grown, too. We welcome Coralie Ehinger who besides continuing her classic Theremin studies has become a veritable CV and analogue Synthesizer expert,  and who starts sharing her excellent knowledge in interfacing the Theremin with the world of Synthesizers offering workshops during this year's academy in Lausanne.